News
Black Friday Electric Bike Picks, Time to Buy It!
Nov 23, 2022
With Black Friday 2022 just around the corner, it's time to buy electric bikes for less this shopping season.
If you thought cycling was an expensive hobby and e-bikes were out of reach, Black Friday is often the perfect time to buy a new electric bike, upgrade your gear, buy a new bike kit and get ready for the upcoming season. So, it would help if you start shopping now. It's time to buy it!
Many electric bicycle makers like Cyrusher offer great bike deals on their sales platform. Whether you need an electric bicycle for commuting, a full-suspension electric bicycle for outdoor off-road riding, or a folding electric bicycle for convenient camping trips, you can choose from various riding styles and find other options that best meet your needs. Providing preferred products for cycling needs will be the most crucial mission of the brands in this shopping festival.
This article rounds up the Cyrusher fat tire e-bike types and the best prices to help you save money and upgrade your gear. If you're looking to shop and save, stay tuned.
Black Friday Sale, Cyrusher Ebike Has Big Discounts:
→ Buy an electric bike and save $300
→ 50% discount on batteries
→ Buy an Cyrusher e-bike on Amazon and get a premium pannier bag
→ Win a gift in the Black Friday live broadcast room
*End on Nov 30th 2022.
These offers will make your shopping experience better in several ways. For example, a 10% to 20% discount on a $2,000 e-bike can save $300 to $600. This is a lot of money for most consumers who have longed for electric bicycles.
You can save a ton of money if you shop for bike-related items around Black Friday. Cyrusher does its best to find exciting new deals and ways to save money on interesting e-bike products and related accessories to make every trip unique.
When you start using Cyrusher electric bikes for fun, exercise, leisurely exploration on beautiful beaches or even commuting to  work or going to coffee shops, you say no to waiting on the roads! Take your friends or family on a regular fat tire electric bike commute to the coffee shop or use it to go to the office. It reduces fossil fuel usage and allows everyone to enjoy time outside on sunny days.
Pick a Fun Cyrusher Electric Fat Bike
Below, you'll find electric fat bikes in various price ranges so see if you're interested in buying one. As always, better e-bike deal sales will be at the top of the list and discounts disappear quickly so shop fast.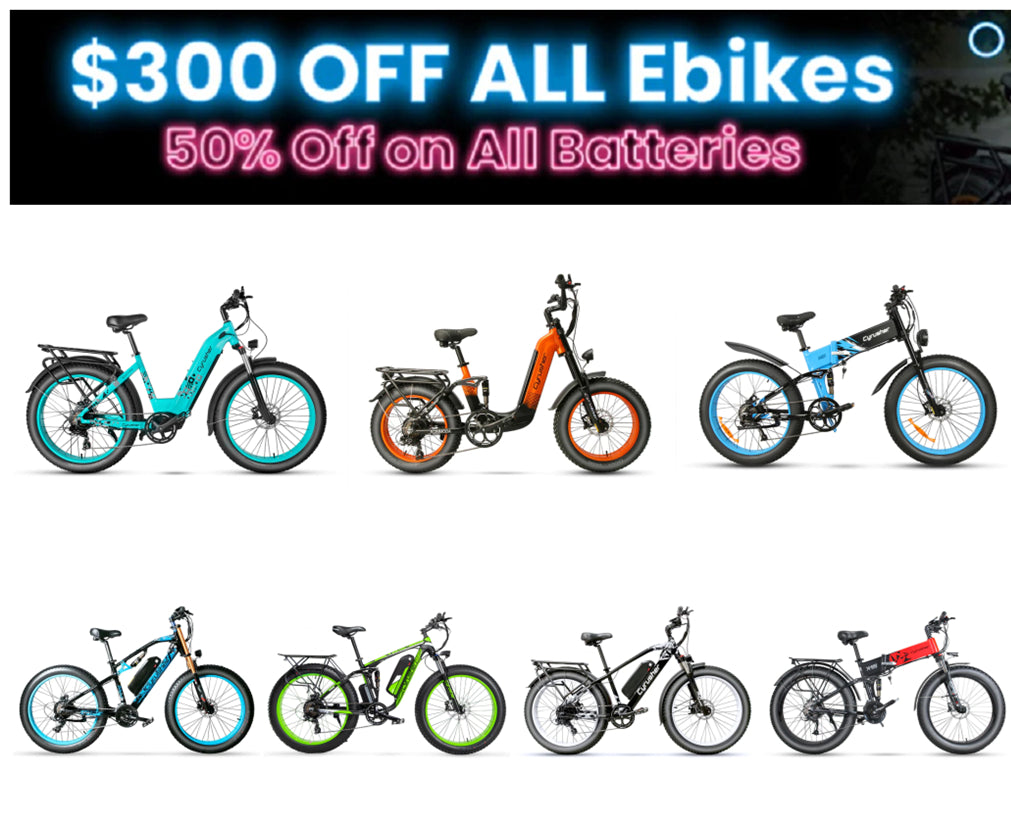 Cyrusher Commuter Electric Bike -- First Choice for Leisure
Can you imagine an e-bike allowing you to achieve an efficient workout and a quick commute?
The Cyrusher Kommoda and Kuattro, two electric fat bikes, have step-through frames perfect for short people and those with limited mobility to ride quickly. Most riders will be attracted by its stylish and unique design, with a simple and bright appearance and brand-special paint to turn more heads. This matches the personality of urban leisure riding very well.
Simple and Comfortable
What shines even brighter is that the Kommoda and Kuattro e-bikes are full of technical innovations and are the best step-through fat tire e-bikes. Bafang motors provide excellent driving power, whether on town streets or country trails. And, the powerful power and fat tires make them excellent on all terrains, such as gravel, sand and swamps. The large-capacity built-in battery can extend your leisure time for a long time, and it has a safer protective case to prevent mud and stones from damaging the battery.
Five levels of pedal assist also give you the freedom to decide the intensity of your workout. The Kommoda has a large 110mm suspension and rear shock to improve rider comfort and protect the rider in bumpy riding conditions. The ground conditions impact the lower back. This is also why Kommoda electric bicycles will become the most desirable in the hearts of many riders!
These two step-through electric fat bikes represent a change in how to get around town or explore the city and they're fast, clean and quiet. This technology is changing how we live, where we go and how we work.
Camping Mate: Cyrusher Folding Electric Bike
As a loyal fan of outdoor life travels, who would say no to the convenience of a foldable electric bike?
The Bandit and XF690 Max are Cyrusher's best folding e-bikes and they benefit riders with their packable power. The comfortable saddle allows you to use the most pleasant riding position.
Flexibility Is Camping's Best Friend
XF690 Maxs can be conveniently placed in the car's trunk, and the vast and thick tires and full suspension can also cope with different complex terrain environments. The latest Bandit is Cyrusher's rebranding of the XF690 Maxs, with new custom eye-catching paint giving it a sleeker look overall. These two electric folding bicycles are available in various colors, such as the tranquil blue reminiscent of the blue sky and the beach and the energetic yellow of the morning sun, etc., satisfying the preferences  of different riders. This is great for cruising around town or for riders looking to camp outside − a flexible and fun vehicle looking to explore open space adventures and camping.
If riders yearn for long-distance outdoor riding, Bandit and XF690 Maxs can provide huge space savings. They also have a five-level cadence assist system and an easy-to-adjust LCD screen which increases the fun of travel. These  electric bicycles can replace cars and deliver great mileage.
Budget Saver: Best Value Hardtail Electric Mountain Bike
Choosing an e-bike to accompany your long-term daily ride requires evaluating each model for its overall performance, safety features and handling. Motor, battery life and other components and features can add to the overall quality of the ride.
For budget-conscious Cyrusher followers, the long-awaited Black Friday could be the best time to buy. The hardtail e-bike Rider is a budget savior and one of Cyrusher's most value-for-money models.
Bottom line, despite being a hardtail e-bike, the Rider has the basic features you'd expect from an e-bike and is still a very solid ride. Compared with dual-suspension electric bicycles, it can more accurately judge its terrain and exercise its riding ability. It is very suitable for entry-level riders and has been loved by many.
Enjoy Free Off-Road--Cyrusher "Beast" Full Suspension Electric Bike
Suppose you are ambitious to speed through the hills and valleys and yearn for an interesting electric bicycle off-road race with equally interesting professional riders. In that case, the Cyrusher XF900 can be regarded as the interesting soul in the electric off-road bicycle world, a "beast" level full suspension electric mountain bike.
Fun + Speed + Comfort
Bold and rugged looking, the XF900 is the brand's most exclusive electric off-road bike and one of its best values. At the front of the XF900 electric mountain bike, there is an eye-catching motorcycle-style front suspension that, together with the rear shock, becomes a full-suspension e-bike.
With fat tires, a 750W motor and a large-capacity battery, it relies on strong and high-quality premium components to allow the rider to perform at their best while riding. This means  there is enough power to enable you to climb seemingly unconquerable hills. The gravel roads aren't much of a problem either. A beastly electric bike will make you the center of attention wherever you go.
Cyrusher Stands Out with Quality in the Black Friday Sale
The Cyrusher electric bicycle brand is not an ordinary electric bicycle brand. It has passed international quality tests and has completed sufficient safety risk tests and performance evaluations. The excellent quality is trustworthy. It complies with CE, UL, Rhos and FCC standards. Over 6,000 riders from different countries and regions have recognized and praised it.
For shipments across oceans, Cyrusher ships products from multiple warehouses around the world. In addition, professional operation teams in the United States, the United Kingdom and France guarantee a better shopping experience. Bikes are carefully packaged for easy transport and protection. Once your item ships, you will receive a tracking number via email to allow you to track your package.
Cyrusher also offers a two-year bike warranty and a one-year battery warranty. This allows access to repairs for accidental damage to e-bikes and enhances brand credibility.
Don't hesitate anymore. The soul that yearns for free riding is guiding you to act. Don't miss the Black Friday sale with great deals. Now is the time to buy it! Even in this frenetic shopping festival, Cyrusher's professional online sales team will answer all your questions and will not let you make blind choices. Give it a try. A fun ride with electric fat bikes is waiting for you!
You may also like:
- Are Electric Bikes Good Thanksgiving Gifts?
- Why do people choose Cyrusher?
- This is love: why do we fall in love with electric bikes?
- How Reliable Are Electric Bikes Made in China?