News
Ebike: Cyrusher Kommoda VS. RadRunners Plus, How to Choose?
Jul 04, 2022
With the increasing development of electric bikes, to provide a better product and good riding experience, Cyrusher launched a brand-new product: Kommoda. Kommoda, the newest product in the Cyrusher products line, Kommoda gets an almost 100% good rating a few months after entering the market.
To help the customer to know this good product clearly in all aspects, we decided to write a comparison of Kommoda between RadRunners Plus from Radpower. This article will compare the detailed elements of two-mode bikes. We will follow the principle of fairness and openness strictly. OK, let us start with this basic information: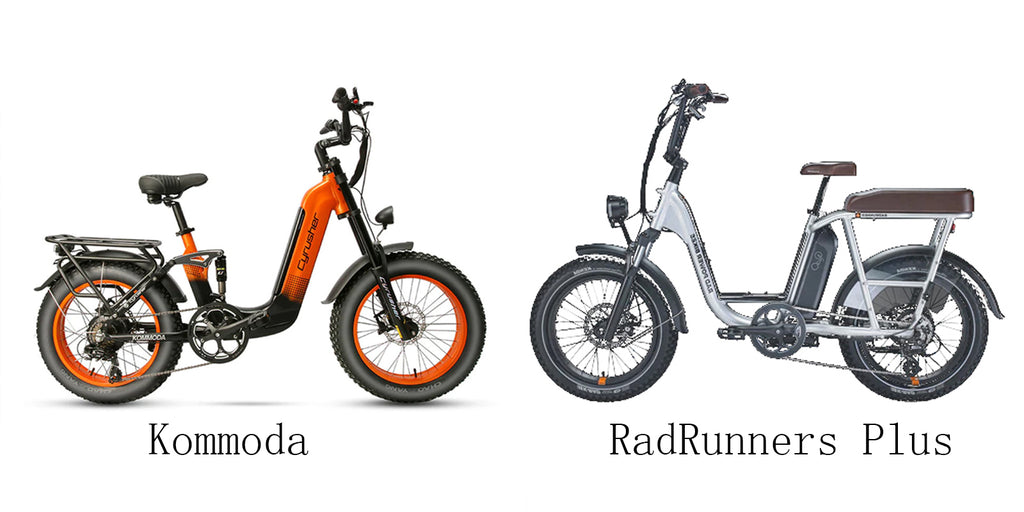 Kommoda
RadRunners Plus
Battery

Integrated

672 Wh (48V*14Ah)

Outside

672 Wh (48V*14Ah)

Range
25~50 miles (40~80 km)
25-45+ miles (40-72+ km per charge) (estimate)
Charger
Standard 110V~240V AC,
54.6V 2Ah Smart Charger (included)
48V, 2 Amp Rad Power Bikes smart charger,
operates on 100V-240V AC power outlets
Controller &
Battery Location

Integrated

Outside
Display
3.7" LCD display, Colorful Smart Computer
Backlit LCD
Brake
Hydraulic
Mechanical
Suspension
Front+Rear
Front
Crank
170MM forged 52T alloy dual-sided

aluminum bashguard

48T, 170 mm forged alloy,
dual-sided aluminum bashguard
Brake lever
Zoom anti-slip grip levers with motor cutoff switch
Aluminum alloy comfort grip levers
with motor cutoff switch and integrated bell
Bike Weight
Total: 75 lbs (34 kg) /

Battery: 8.8 lb (4 kg)

Total: 77 lb (34.9 kg)
Battery: 7.7 lb (3.5 kg)
Color
4
1
Price
$2,099
$1,899
(Basic information chart)
1. Large fork design: The Kommada uses a motorcycle-style fork with excellent suspension, ensuring you can ride comfortably in rough terrain. The preload is adjustable. It can be locked when riding on flat terrain and can be unlocked when riding on mountain terrain.
2. Rear suspension function: Kommoda designed the rear spring suspension to make the suspension effect during the movement stronger, and the riding experience will be more comfortable. You will love it if you buy an electric bike that can ride stably with minimal bumps, as comfortable as clouds!
3. Comfortable saddle: Kommoda uses a breathable ergonomic sports cushion seat, which is more user-friendly. Just think, on long rides or rough terrain, we can ride in a comfortable saddle to make the ride more enjoyable!
4. Powerful brakes: Kommoda is an all-terrain electric bicycle, and the oil brake function can brake more safely and stably. Kommoda uses oil brakes. Compared with the line brakes of RadRunners Plus (that is, the design of mechanical brakes to control the movement of the car), the safety cut-off function of this design will have a higher safety factor. On complex and steep terrain, the oil brake will be more protective.
5. Able to withstand complex terrain tires: Kommoda and RadRunners Plus use high-quality fat tires. The central point of Kommada is puncture resistance, which can face sand, mountains, snow, and other complex terrains!
We can see the difference directly between these two types of products from the chart above. Most consumers may be concerned about the safety of the ebike, Reliability and battery capacity issues, etc.
There are comparison charts below that can better illustrate the details.
(Step-through electric bike Kommoda can effectively prolong the cruise of the bike and give you a flexible switching good experience)
First, we need to consider a safety problem. The controller and the battery constitute the essential part of the bicycle. The controller must process the different operations and send the manipulation commands on time. Meanwhile, the battery can provide the electricity demand for the whole bike. There the Kommoda is designed with a built-in battery and controller. This design can better prevent the controller and battery from being damaged. If it is on a bumpy road(there are many gravels on the road and potholes), The design of the built-in battery and controller can better protect the two essential parts to ensure their safety. and following is the waterproof function, it may happen to rain when you ride, if you ride in rainy, The design of the built-in battery and controller can undoubtedly better ensure the safety of the battery and the controller, you can see the picture 1 and 2 below.
(picture 1)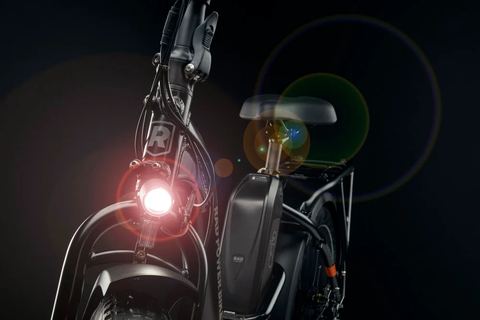 (picture 2)
The second we need to consider is the brake. It should be noted that the brakes are the most important in the composition of the bicycle! Kommoda adopts a Hydraulic design(with a safety cut-off sensor), while RadRunner Plus adopts mechanical methods (with a safety cut-off sensor). The difference between these two designs is the manufacturer chooses the different brakes with different materials. Especially on highways, the hydraulic brake can provide more power more smoothly. The rider can get safer feelings. And this is an aspect that the manufacturer is supposed to be considered. Therefore, the price of Kommoda is higher than RadRunner Plus. of course, it is one of the reasons for the Kommoda's rear price, and the safety cut-off function is an excellent invention. This function can ensure the safety of riding for a long time.
Suspension is also a part that cannot be ignored. There is standard suspension equipment in RadRunner. Not only using a hydraulic front suspension, but Kommoda also adds another suspension frame to the rear seat. The double suspension design can absorb the discomfort caused by road bumps to a great extent. In addition, the front suspension has some more complex functions. For example, the strength of the suspension can be adjusted according to different road conditions and the function of turning off the front suspension. If the front suspension function is turned off on the flat road, you can ride more effortlessly, and it will bring you a better riding experience. (You can see the comparison picture1)
In addition, Kommoda adopts the design of an LED color screen on the central control display, which can bring a better sensory experience than the Backlit LCD of RadRunner Plus. And Kommoda's display gives you all the information you need via a use-friendly 3-button controller. One more function is that It's fully programmable, allowing you to set up your ride the way you may want!
Let's also have a look at the cranks. Kommada's cranks are made of 170MM forged 52T alloy double-sided aluminum, while the total weight of the Kommada is only 66 lbs (30 kgs) compared to the RadRunner Plus, which weighs 77 lbs (34.9 kg), which is more convenient and light! Not only the travel steering is quick to change, but also convenient and effortless to apply. It is worth mentioning that the load-bearing capacity of Kommada is 30Ibs higher than that of RadRunner Plus, which is suitable for commuting and traveling. It is user-friendly for all kinds of customers.

In this era of low-carbon and fashionable, more and more people's pursuit of color has diversified and developed, not only a single color but also a fashionable new color with striped stitching. To meet the different needs of the market, Cyrusher has designed four colors (orange, white, blue, and gray) options for Kommoda, not only the body color but also the wheel color. Different colors for different consumer preferences. Monotonous black and white ebikes are standard in the city. Still, riding on Kommoda, the combination of various colors adds a different color to the city streets, not only for the pleasure of body and mind and bright color always can catch your eyes.
Kommoda
RadRunners Plus
Color
orange white blue and gray
gray
weight
330 lbs (150 kg)
300 lb(136kg)
Height
5'1" ~ 6'2" (155cm ~ 190cm)
5'4" ~ 6'2" (155cm ~ 190cm)
Accessories
fat tire rear rack, mountain bike fender,
combination wrench,MTB air pump
Warranty
2 years for ebike
1 year for battery
 All in all, Like the data comparison we mentioned above, Kommoda has made a corresponding comparison in terms of battery, brakes, suspension, crank, ebike weight, etc., as well as the different riding styles and colors preferences of each consumer. The design provides more choices for the majority of the consumer. In addition, the Kommoda electric ebike has a headlight, which is convenient to illuminate the direction of the road during night riding. At the same time, Kommada comes with its own electric horn, which can alert oncoming cars on crowded streets. Kommoda also gives away accessories worth 245USD (including fat tire rear rack, mountain bike fender, combination wrench, MTB air pump). You don't need extra money to purchase the necessary accessories and installation assistance, which can help you save more. This is the rear reason for Kommoda's real price.
After comparing these two electric bikes, we can find that there are many similarities between the two electric bikes. Still, Kommada has done better in detail and considers many aspects of humanization. And Kommada also offers a service that is more favored by customers, which is a two-year electric bicycle warranty and a one-year battery warranty service, so you don't have to worry about after-sales problems when you receive your electric. After-sales guarantee will always be your most agreeable partner and solid protective shield!
Hi~ open the world differently, and switch your life to a simple mode by riding a satisfactory electric bicycle.
Cycling to the mountains and fields, overlooking the scenery and humanities of the city, the usual busy rhythm will become slower at this moment, open space and relaxed vision.