Extra Shipping Cost or Alternatives Listing
Sale price
$1
Regular price
Extra Shipping Cost or Alternatives Listing
Sale price
$1
Regular price
Product description
Shipping & Return
Have question?
Set the quantity equal to the amount to pay. Example, to pay USD $20, set quantity = 20
Handling Time (Business Days)*
In-stock orders typically ship within 2-5 days.
Delivery Time (Business Days)*
From US Warehouse: 4-7 Days                         
From China Warehouse: 7-35 Days
 1) Weekends and Holidays above countries may delay those procedures. 
 2) A shipping confirmation email will be sent to the email address attached to the order once the order has shipped.
 3) The estimated delivery time on www.cyrusher.com is only for reference.
 4) Bikes and accessories may be delivered separately. 
Our world-class Customer Experience team is here to answer all of your questions.
Hours: 7AM - 6PM PST from Mon - Fri
Call Us: +1 385-382-1622
Chat with us: click here to chat.
Reviews
Customer Reviews
Write a Review
Ask a Question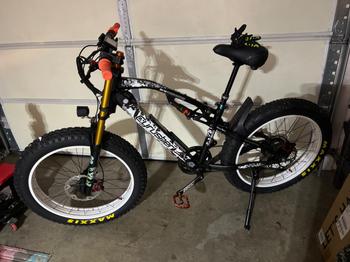 11/19/2022
Derailleur hangars and new fork.
Hey CJ, Stroud, I just wanted to make a big thank you to Jake join the party for helping me so much with my bike. Every time I've had a little problem he was always there to fix it. And he turned me onto extra derailer hangers, which I highly recommend to anyone Taylor, who may ride in the woods, because no matter your skill level. You could clip some thing and knock your derailleur crooked so I purchased three of them for just in case. But mainly, I want to complement the incredible level of customer service and tech-support from Jake Carl at the Ogden office.
Christopher H.

United States
02/28/2023
So far so good
I have the new battery and it is working perfectly. I returned to damaged one for repair or replaced. I have had no response to the original battery.
Fred S.

United States
12/31/2022
Great service
Cyrusher has great so customer service every time, I'm so glad I purchased this bike rather than another brand. The bike is fantastic and customer service is great, shipping is quick and accurate.
Richard J.

United States
11/29/2022
It's been 5 weeks!
Not so good. I ordered my new front fork on October 20th, 5 weeks ago, and I've not received it yet. This is disappointing and not good customer service. The reason I've given 2 stars and not 1 is because I did get a prompt response to my last email asking where the front shock is.
Christian D.

United States
11/16/2022
rear view mirror xf900
I love them I have a back disease and I can't twist around
ted p.

United States
10/17/2022
Great service, they mailed me a small part I lost 4 years after I bought bike
Great service, they mailed me a small part I lost 4 years after I bought bike
Paul E.

United States
09/15/2022
XF800
Overall experience was very slow. There should be a site on the internet where you can look up and purchase broken or warn out parts, for a specific bike like my XF800 [from a Cyrusher warehouse]. To bad there is no catalogue or PDF to order from. Ordering parts from a bike mechanic in china is slow and it takes time.
rich p.

United States
07/08/2022
Complete Order
Where can you tell me is my other part of this paid up order. I haven't heard f about the Status of this order my tool kit and my helmet? Please advise before I have to seek other means of getting the status of my full order. Thank you .
James R.

United States
05/17/2022
Xf690maxs
Absolutely love my 690max.customer service top notch. FedEx delivery out of Spartanburg s.c. Not so hot.Delivered day late,changed tracking info at last minute.
George M.

United States